EDIT MAIN
Graduation 2020
Watch the recorded Graduation ceremonies!


DeAngelis: https://www.youtube.com/watch?v=OyxGIzY9v0I
DeMillo: https://www.youtube.com/watch?v=T4f62Vy5flY
Kelley: https://www.youtube.com/watch?v=y-hcDXj9AFU
Magnusson: https://www.youtube.com/watch?v=64D25F8IoGg
Nicola: https://www.youtube.com/watch?v=pswMBlB5BmM
O'Clair: https://www.youtube.com/watch?v=aFgZIIVdL_4&t=115s
O'Donoghue: https://www.youtube.com/watch?v=KK5Z-pxAmLI
Ray/Tamborini : https://www.youtube.com/watch?v=Du5eUJ0NUnM
St.Clair/ Ferrero: https://www.youtube.com/watch?v=OxKrUCJWqQI
Twiss: https://www.youtube.com/watch?v=XKTFJE_RvKo
---
SCHOLARSHIP PRESENTATION/CLASS NIGHT:
The Guidance Department will present scholarships through a pre-recorded presentation.
Here is the link to the Scholarship Presentation: https://youtu.be/x_8GWCzZabw
Class of 2020 Graduation Parade!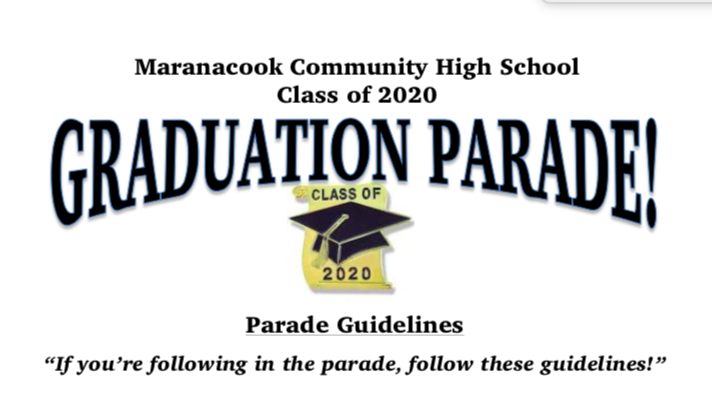 Updated Graduation Parade Times!
Dear soon to be graduates families,
This is a reminder of our Graduation Kickoff Parade which will begin at 7:00pm Friday.
The line up time has changed from 6:00 to 6:40pm on Church Road by the Fairgrounds. This will keep waiting time to a minimum. Cars should approach Church Road from Thundercastle Road or North Road to avoid turning around. The parade will begin at 7:00pm.
The guidelines and map are attached.
Also, if you would like to have your senior sign posted on Millard Harrison Drive for graduation weekend, please bring it along and place it in the grass along Millard Harrison Drive.
We are all looking forward to seeing you and cheering on all of our graduates!
Thank you to all the senior parents who helped to make this event possible.
Updated Parade Guidelines 6/11/2020
Safety Protocols for Graduation:
The following safety protocols will be in place for the graduation ceremonies for the Class of 2020. These protocols are in place to ensure the health and safety of all who will be on campus and to adhere to the guidelines from the Department of Education. We appreciate your adherence to following protocols:
Masks will be required to be on campus during graduation proceedings.
Graduates and staff will be provided with masks. All guests please bring your own masks.
Please practice 6 ft social distancing.
All attendees will enter through the front door and out the backdoor of the gym after the ceremony. Graduates will march in through the gym doors and march out through the gym doors to join their families waiting outside after graduation.
Attendees are asked to walk through the lobby upon entry and proceed to the gym. For everyone's safety please do not congregate in the lobby.
Due to the amount of separate graduation ceremonies we have scheduled throughout Saturday and Sunday, please exit the campus within 20 minutes of the end of the graduation ceremony. The campus must be completely clear before the next group is allowed on campus.
Four tickets will be provided and any out of state residents are expected to not attend unless they have quarantined for 14 days.
Tickets will be issued to each advisee group's graduation ceremony and can only be used during designated graduation time as stated on the ticket. This is done to keep the graduation in compliance with state guidelines. Please make sure you have tickets when you arrive on campus.
2020 GRADUATION LIVE STREAMING SCHEDULE
Graduations will be live streaming on YouTube, Saturday, June 13th, and Sunday, June 14th. On YouTube search: Maranacook Athletics. Or use this link: https://www.youtube.com/results?search_query=maranacook+athletics
Each advisor group will be live-streamed separately and plans are to upload the ceremony later for additional viewings.
Live Streaming Schedule:
Saturday, June 13th
10:00am DeAngelis
12:00pm DeMillo
2:00pm Kelley
4:00pm Magnusson
6:00pm Nicola
Sunday, June14th
10:00am O'Clair
12:00pm O'Donoghue
2:00pm Ray/Tamborini
4:00pm St. Clair/Ferraro
6:00pm Twiss


LAPTOP COLLECTION: Senior laptop collection was done on June 4th and 5th in conjunction with marching practice. If you still need to pass in your laptop, you can drop it off during the following times: Monday, June 8th- Freshmen 7 am-9 am and 3:00 pm-5:30 pm Tuesday, June 9th- Sophomores 7:00 am-9 am and 3:00 pm-5:30 pm Wednesday, June 10th- Juniors 7:00 am-9 am and 3:00 pm-5:30 pm.