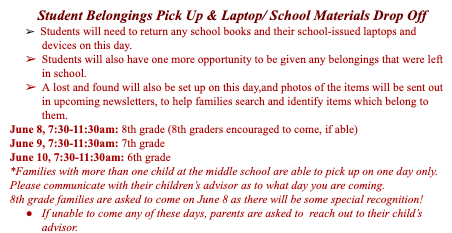 MCMS End of Year Pick Up and Laptop Drop Off
Kristen Levesque
Thursday, June 04, 2020
Student Belongings Pick Up & Laptop/ School Materials Drop Off
Students will need to return any school books and their school-issued laptops and devices on this day.

Students will also have one more opportunity to be given any belongings that were left in school.

A lost and found will also be set up on this day,and photos of the items will be sent out in upcoming newsletters, to help families search and identify items which belong to them.
June 8, 7:30-11:30am: 8th grade (8th graders encouraged to come, if able)
June 9, 7:30-11:30am: 7th grade
June 10, 7:30-11:30am: 6th grade
*Families with more than one child at the middle school are able to pick up on one day only. Please communicate with their children's advisor as to what day you are coming.
8th grade families are asked to come on June 8 as there will be some special recognition!
If unable to come any of these days, parents are asked to reach out to their child's advisor.
Lost & Found! Below are images of the items in the lost and found. If any of it belongs to your family, you, as staff member will be able to give it to you on your designated pick up day